Rencontres TESF 2003-2004
* October 2003 : nine students from Lycée Jean Perrin attend IAF Congress in Bremen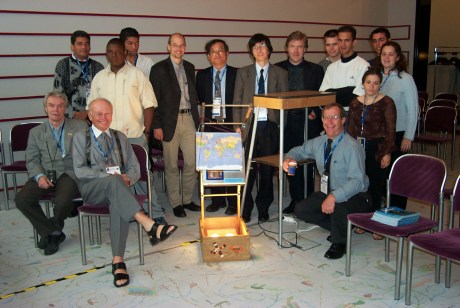 Bremen : Jean Perrin students meet with members of IAF Energy Committee
Nine undergraduate students of Lycée Jean Perrin in Saint-André in Réunion Island attended the International Astronautical Congress in Bremen, with the support of ESA's student programme, the Regional Council of La Reunion, the city of Saint André and the Science Sainte Rose association for educational outreach..
The young delegates from Jean Perrin, representing their school mates and the entire education team in charge of the SPS demonstrator project, were able to present their model in the international exhibition hall. They met with the members or the Energy Committee of the IAF, and they were congratulated for their project of promoting the concept of Space Solar Power.
* May 2004 : international encouters in Pisa (Italy) at the URSI annual congress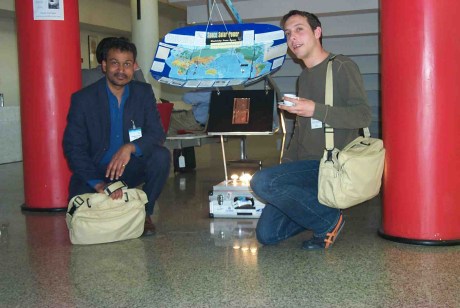 Pisa : encounters of the international SPS - WPT community near the UNESCO SPS demonstrator
Key members of the worldwide SPS community happened to meet in Pisa to present Space Solar Powerat the annual conference of URSI - the Union Radio-Science Internationale. A few weeks later, they met again in Grenada, in Spain, for another conference that was exclusively devoted to the development of SPS.
* July 2004 : Reunion-Gifu meetings at the University of La Reunion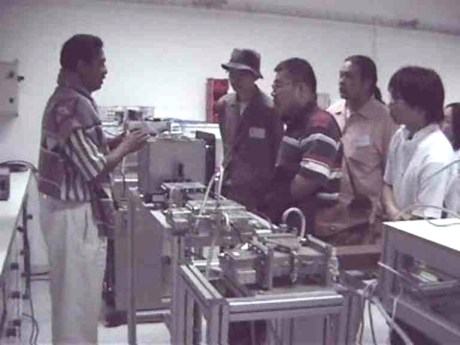 Saint-Denis : Gifu Space Club visits the LGI-Actes laboratory
Professeur Minoru Sasaki and delegates from the Gifu Space Club had come to La Reunion to participate in Exposcience Reunion Ocean Indien, a major regional science fair. They visited the Industrial Engineering Laboratory LGI-Actes where researchers at the University of La Reunion work on the development of WPT technologies.